Winner of the Building of the Decade Award for NW England.
Stakeholder Design is proud to announce that the partners it was supporting in the £237 million bid to rebuild Alder Hey Children's Hospital have been formally chosen for the work.
Stakeholder Design created and facilitated stakeholder engagement sessions with children and parents, stretching and enhancing their aspirations for future healthcare and championing their views within the Acorn consortium. The consortia comprised John Laing, Laing O'Rourke and Interserve, supported by BDP (architects) as well as numerous medical consultants, engineers, finance specialists and logistical planners.
A bespoke process was created to take account of different age groups, health needs and the time pressures that naturally exist in one of Europe's biggest and busiest children's hospitals.
As a specialist hospital, Alder Hey provides 275,000 episodes of care to children and young people every year. It has an international reputation as a Centre of Excellence for children with cancer, heart, spinal and brain disease. However, this outstanding care is currently being provided in buildings which are almost 100 years old and are not fit for providing modern day services.
As an Investing in Children hospital, Alder Hey was keen to ensure that children were fully involved in developing the plans.
Louise Shepherd, Alder Hey Chief Executive said: "The designs for the hospital have been inspired by children and it was a drawing from one of our patients which inspired the design we will see today. We felt it was really important to design this hospital with the help of our children who have been involved throughout the development phase. They have helped our bidder to get the design right for children and young people. The new hospital will be fantastic for our patients, families and staff and enable us to achieve our ambition as an internationally renowned children's hospital."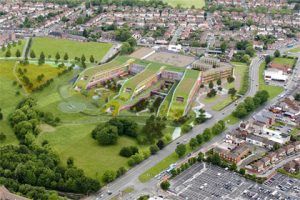 Lead Architect for the project at BDP, Benedict Zucchi said; "Our design concept has not only captured the imagination of children, parents and staff but has also demonstrated itself as a flexible and effective approach, which has evolved through a significant number of user engagement meetings and allowed us to fine-tune the clinical layouts and optimise adjacencies to an unprecedented level."
The new hospital has been specifically designed to blend seamlessly with a much-loved park that runs alongside the proposed site. It plays to the imagination of children as an exciting and friendly place to be. As Programme Director David Powell explained: "Moving next door to Springfield Park will mean the building can blend into its surroundings and become a hospital in the park. There will be views of the park from most windows and every child will be able to see green space / nature from their room. The development will also give the local community a new and better park than what they have now. Along with much better facilities for our patients, there will also be better facilities for parents and families including more parents' rooms, plenty of gardens and a 150 seat restaurant facility."
Speaking on behalf of Acorn, John Laing's Director of Healthcare Projects, Peter Ward, said: "We're delighted to be working with Alder Hey to develop the new hospital, giving the Trust's staff and patients a hospital that matches the quality of their care.
"Its unique and instantly recognisable design will help promote Alder Hey's care, teaching and research across the UK and internationally, and give children and their families the very best therapeutic environment."
The new hospital will have a floor area of 60,000m2 and will have 270 beds, including 48 critical care beds for patients in ICU, HDU and Burns.
There will be six standard wards with 32 beds. Each ward will have two four bed bays and 24 single rooms on each ward. That means the majority of children will have their own room with en-suite facilities.
The new development will also include a multi-storey car park with 1200 spaces, 200 more than the current site.
Postscript: In 2019, Alder Hey Children's Hospital won the Building of the Decade Award for NW England. The BBC made a video about the building, which you can see below. Congratulations to genius architect Benedict Zucci for his insight and imagination.