Ireland's commitment to becoming Europe's leading digital economy will only work if it can supply workers with the right skills. But how do you teach them? Stakeholder Design was asked to run a workshop with students from all across Ireland to produce a charter for 21st century learning. This is what they said.
1. Cultivate Creativity – Place more emphasis on the skills that will help young people to progress and prosper in the twenty-first century such as critical thinking, problem solving, collaborative learning, adaptability, initiative, ability to access and analyse information, curiosity and imagination.
2. Encourage Flexible Learning – Organise learning around projects and short-term studies. Engage in work that is project based, research driven, relevant, rigorous and real world.
3. Trust the Learners – Encourage group-based learning and allow students to teach each other. Offer more choice in terms of how to display knowledge and competence – test ability and skills as well as memory, and include credits gained through extra-curricular activity
4. End the all-at-once assessment cycle – introduce a system of continuous and flexible assessment that allows work to be assessed as it is completed. Encourage self, peer-topeer evaluation and portfolio based assessment.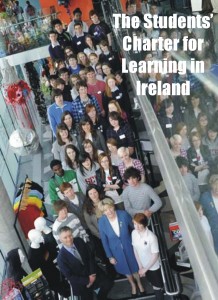 6. Foster Mutual Respect – Develop a culture of mutual respect and learning between teacher and student – It's not a one against thirty situation any more
7. Invest and build on physical learning spaces – Embrace the full potential of social media, gaming technologies, virtual learning environments and other alternative platforms for learning
8. Rethink the role of teachers – Let teachers act as guides rather than judges of outcomes by making it easier for teachers to vary their approach according to the circumstances, the subject and the preferences of the learners.
9. Future Proof – Technology and culture are changing at a rapid pace. We need to develop a responsive curriculum that allow teachers and schools to rapidly respond to new knowledge, living culture and emerging technologies.
10. Global Classroom – We live in a globalised society. Our learning environment should reflect this. To navigate in a 21st Century world we need to be literate in a multicultural, media saturated, high tech society. We can do this through meaningful collaborative projects with students across the world.
Download the full report: A Charter for 21st Century Learning in Ireland
Effective engagement with young people goes far beyond asking questions about whether they would prefer solution X or Y.

Stakeholder Design can help you to transform your understanding of student needs. This improves morale, takes the risk out of change and ensures that resources are properly focused.