Did you know that children carry around 20% of their bodyweight to and from school? Or that children are exempted from Health and Safety Executive covering the design of the furniture that they use? As a result, we are presently seeing an enormous increase in the number of young people reporting neck and back problems. It can also be said with certainty that the negative effect of poor furniture far outweighs the positive impact of a good teacher.
So what should we do about it? Why not start by joining the campaign to give children the same rights and entitlements in the classroom as the teacher. Doing anything else is basically age discrimination.
The following article was published in the Daily Mail:
'Heavy school bags are 'deforming' children as growing numbers suffer irreversible back problems' by John Stevens.
Growing numbers of children are developing irreversible back deformities because of the weight of the bags they carry to school, experts warned yesterday.
Half of all children suffer back pain by the age of 14 and doctors are reporting a rise in cases of spinal abnormalities in pupils, including disfiguring curvatures known as scoliosis.
Overloaded school bags that are up to double the size of those carried ten years ago are contributing to the surge, it is feared.
Pupils routinely carry bags filled with heavy books, laptops, sports kit and packed lunches, which may weigh as much as two stone.
Health experts say children risk long-term and ultimately permanent damage if they regularly carry more than 15 per cent of their body weight over their shoulders.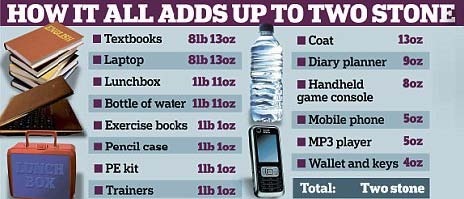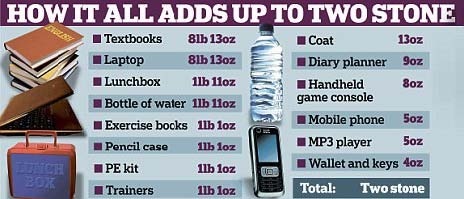 The charity BackCare claims many youngsters are carrying as much as 20 per cent of their weight to and from school, and some up to 25 per cent.
Back pain specialists are calling for a review of the weights youngsters are being asked to carry on their backs each day.
Sean McDougall, of BackCare, said the problem is a 'healthcare timebomb' that is leading to years of misery in later life.
'If children are getting back pain so young then there is the potential they will have it for the next 70 to 80 years, which leads to an enormous physical and emotional cost,' he said.
'Children's skeletons are still growing so carrying heavy bags can cause lasting damage.
'Many are carrying their bags on one shoulder or are increasingly carrying them on the crook of their elbow, so are placing a great strain on the spine.
'A lot of the bags being used are bulky sports bags, which are twice the size of backpacks used a decade ago.
'If children have bigger bags then they tend to fill them. Add on sports equipment, musical instruments and heavy wet weather clothes and children are totally overloaded.
'We are seeing children carrying up to a quarter of their body weight around, which would never be allowed if you were an adult.'
He added: 'Back problems are becoming an increasing issue among schoolchildren and schools no longer have adequate desk space for pupils to store heavy books. We need to have an urgent overview of this issue.'
Parents are being urged to keep an eye on children's backpacks so that they do not cause problems for their health when they are older.
Mr McDougall said: 'Parents should insist that their children pack their bags only with what they need for the next day and ensure that they are worn on both shoulders.'
Original text: http://www.dailymail.co.uk/health/article-1211226/Children-buckling-weight-heavy-school-bags.html
Want to know what happens next? Click here